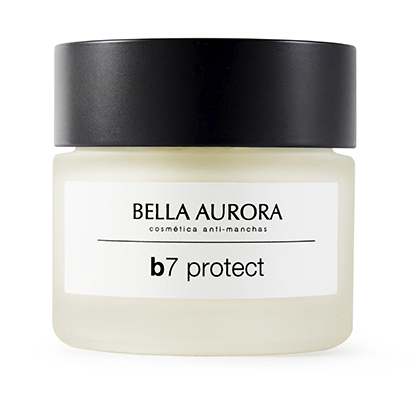 b7 protect sensitive skin
daily anti-ageing anti-dark spot care
Daily anti-dark spots and anti-ageing treatment, specially for sensitive and delicate skin. Depigmenting treatment that attenuates dark spots and imperfections to unify skin tone and provide luminosity and intense hydration.
Regenerates and repairs skin, reduces wrinkles and expression lines.
Providing maximum care for the most sensitive skin, it strengthens and restores the skin's natural self-defence system against external agents. Sooths, alleviates, protects and moisturises skin. Reduces redness.
Sun filters SPF20 / UVA / IR. Hypoallergenic. Silicon-free Paraben-free.
Who is it recommended for?

Women between the ages of 35 and 50 with sensitive skin who are concerned about keeping their skin looking young, bright and spotless.

Recommended for women with dark spots who seek an ongoing treatment after using bio10 and who aim to depigment and unify skin tone while providing extra care and preventing the signs of skin ageing from appearing.

Application

Apply in the morning and night to your entire face. Lightly massage until complete absorption.

Always remember to complete your treatment with sun protection and exfoliating gel.

DEPIGMENTING + EXTRA CARE SUBSTANCES 

Arabian Cotton Stem Cells
Prevent, repair and protect against UV and IR cell damage. Antioxidant. Stimulates collagen and elastin production. Reduces inflammation, soothes and revives.
Hydrolysed
"five flavour berries"
Reduces melanin synthesis and distribution. Soothes and unifies. Controls and reduces the appearance of redness
Pomegranate stem cells
Depigmenting, antioxidant and brightening
Combination of matrikines
Antiageing, they improve skin elasticity and tone.
Betaine
A sugar beet product, it has moisturising properties, trapping water to stop it from evaporating
Olive oil squalene
Boosts the hydrolipid layer and protects sensitive skin.
Natural mica pigment
Skin-brightening optical effect. Minimises dark spots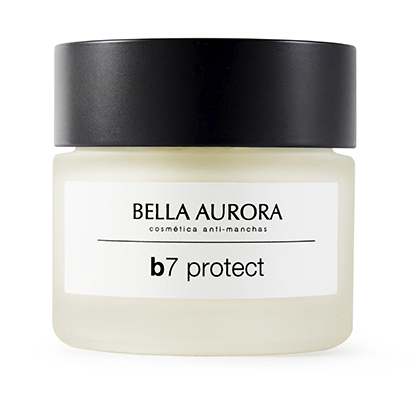 Complete the treatment with
Any question?
If you have any questions about how to apply the product, composition, allergies or anything else, and Ask an expert