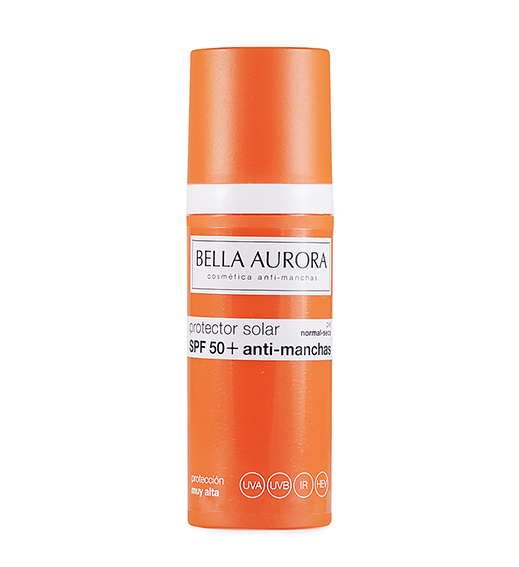 sunscreen anti-dark spots SPF50+
normal / dry skin
The anti-dark spot fluid sunscreen SPF50+ for normal-dry skin provides maximum protection thanks to its enhanced formula with a wide spectrum of UVA, UVB and IR sun filters that guarantee maximum protection against sun exposure.
It has a light and fluid texture that blends into the skin for perfect daily application with a matt transparent finish.
Improves moisture of dry skin and reduces skin spots. Its formula includes powerful depigmenting active ingredients that address existing spots to visibly reduce them and prevent new ones from occurring.
It soothes the skin during sun exposure while reducing inflammation.
With moisturising, soothing and antioxidant ingredients that protect the skin from photoaging.
Sun filters SPF50+ / UVA / IR.
Who is it recommended for?
For normal to dry skin, especially for people who are undergoing an anti-spot treatment.

Application
Apply daily after treatment or your regular cream in the morning. It can also be used as a moisturising cream with an elevated protection factor to prevent spots

DEPIGMENTING + EXTRA CARE SUBSTANCES

| | |
| --- | --- |
| Bearberry and mitracarpus extracts | Antibacterial and tyrosinase inhibitor. Tyrosinase enzyme inhibitor. |
| Betaine | Long-lasting moisturising effect. Reduces irritation and inflammation. Anti-wrinkle. |
| Thermus thermophilus ferment | IR protection. Anti-oxidant. Soothing effect on inflammation.. |
| Argan Oil | Aids skin healing and regeneration. SPF booster. |
| Vitamin E | Antioxidant. SPF booster. |
| Bisabolol | Soothes the skin. SPF booster |

Can it only be used in summer?
No, the sun is a constant aggression for our skin no matter the time of year.
Therefore, you must remember to protect yourself from the sun every day. Apply Fluid Sunscreen SPF50+ as a regular moisturising cream or after your dark-spot treatment.

How does the previous Fluid Sunscreen SPF50+ compare to the new Fluid Sunscreen SPF50+?

They have completely different formulas. The new Fluid Sunscreen SPF50+ has an enhanced formula that provides greater hydration and antioxidants.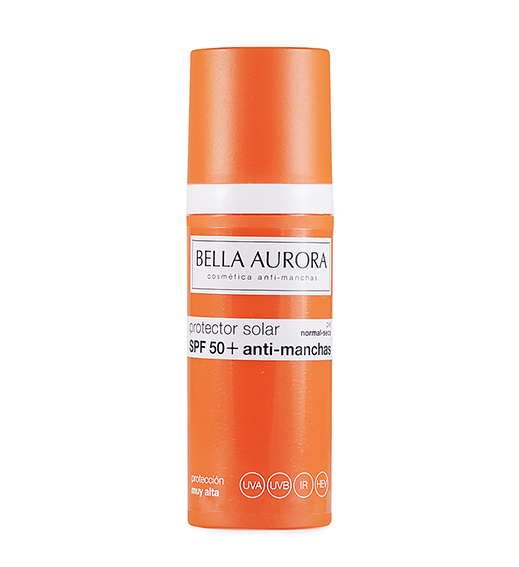 Complete the treatment with
Our videos
Rosa Fernández prueba el Protector solar
Protección solar antimanchas
Any question?
If you have any questions about how to apply the product, composition, allergies or anything else, and Ask an expert