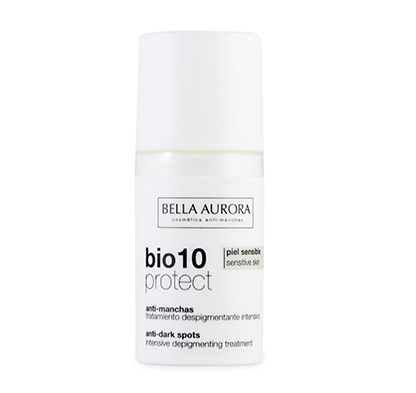 bio10 protect anti-dark spots sensitive skin
shock treatment for sensitive skin
bio10 anti-dark spots serum is the most effective Bella Aurora product. It helps combat dark spots of melanin and lipofuscin on the skin and other tone irregularities. It is suitable for all skin types, including the most sensitive and delicate ones.
It depigments effectively thanks to the high concentration of assets that act in all the mechanisms of the process of skin depigmentation. It reduces and eliminates all existing dark spots, while also preventing the appearance of new ones. It calms, soothes, protects and moisturizes the skin, and prevents ageing. It regulates inflammation, relieves redness and evens the skin tone.
Its delicate texture provides an extra comfort and a sense of immediate and lasting wellness.
Who do you recommend this product for?
Sensitive skin and people worried about the dark spots, melasmas and chloasma, post-inflammatory hyperpigmentation.

Application
Treatment requires at least 10 weeks (visible results from the 6th week).
Apply a small amount on clean skin morning and evening gently massaging until completely absorbed. If more intense hydration is required, then apply a moisturizer. For perfect results, is important to use a high protection sunscreen and exfoliate the face once or twice a week.

DEPIGMENTING + EXTRA CARE SUBSTANCES 

Biobenefity™
Acts directly on cell DNA, to control melanocytes and keratinocytes and prevent ageing. Reduces the size and number of pores and brightens the complexion. (Artichoke leaf extract)
Liposomal watercress extract and soy isoflavones
Melanocyte-keratinocyte signalling inhibitor. Lightens lipofuscin marks. Antioxidant, reduces inflammation and improves collagen.
Microencapsulated Vitamin C
Depigmenting effect, by transforming oxidised melanin into colourless compounds. Brightens skin and has an antioxidant effect.
Mitracarpus and Bearberry extract
Inhibits tyrosinase activity
Lactic proteins
Controls melanocyte activity for an even skin tone, reducing inflammation and protecting the skin.
Calcium pantetheine sulfonate
Reviving and depigmenting. Natural UVB Shield.
Hydrolysed
"five flavour berries"
Reduces melanin synthesis and distribution. Soothes and unifies. Controls and reduces the appearance of redness.
Natural mica pigment
Improves skin tone, camouflaging blemishes. The pearlescent blue colour counteracts a sallow skin tone and brightens the complexion.
Arabian Cotton Stem Cells
Prevent, repair and protect against UV and IR cell damage. Antioxidant. Stimulates collagen and elastin production. Reduces inflammation, soothes and revives.

Will bio10 sensitive skin remove the tan from the skin?
The bio10 only acts on the spot. Apply it all over your face to avoid the creation of new spots and treat them even if they are not visible. Moreover, apart from attacking dark spot bio10 also brings benefits to our skin with its extra ingredients so it can be used as usual cream.

When using bio10 sensitive skin does the skin need extra hydration?
bio10 treatment is ideal for dark spots, it contains depigmentation, regenerating and moisturizing ingredients.
Therefore, you will only need to protect the skin with a high SPF sunscreen. However if you have dry or very dry skin is likely that at night you need extra hydration such as B7, in this case you will still be treating the dark spots while taking care of the skin.

Can I use it if I don't have dark spots?
Yes. You can use it without any problem, it helps unify the skin tone and prevents the appearance of new dark spots. It also improve the effects on the sensitive skin.

Is the new bio10 for sensitive skin more effective than the previous one?
The 2 products (new and old) are equally effective. Its high despigmenting power combates lipofuscin and melanin spots, with the highest concentration of certain assets. It removes existing dark spots and prevents new ones from appearing. bio10 sensitive skin is specially formulated for sensitive skins.

Why doesn't bio10 for sensitive skin, contain SFP?
Sensitive skin needs specific care, and the best recommendation is to use a protective sunscreen (separate treatment) suitable for your skin type. Then you can find, choose and try different textures or ingredients.

How can bio10 for sensitive skin take care of such sensitive skin?
Bella Aurora has created a specific product that meets the needs of your skin. It is a depigmenting treatment that improve the symptoms of sensitive skin and strengthens the epidermal barrier.
With skin friendly ingredients, it contains no parabens, no dyes to prevent hypersensitivity reactions. Its assets create a film that repairs the stratum corneum, increasing hydration and reducing irritation.
Calms and controls vascular inflammation and redness while preventing, repairing and protecting from damage caused by the sun's UV rays.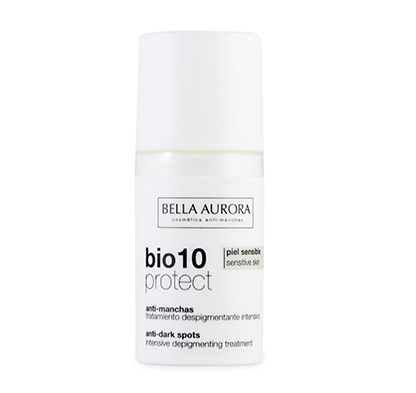 Complete the treatment with
Our videos
Tratamiento de choque bio10 para pieles sensibles
Any question?
If you have any questions about how to apply the product, composition, allergies or anything else, and Ask an expert