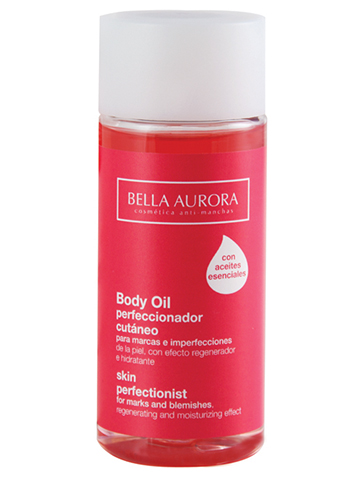 Body Oil
skin perfeccionist
Body Oil is a non-greasy oil formulated with an exclusive selection of special oils which make this formula light and quick to be absorbed. This ensures that the vitamins and plant extracts not remain on the surface of the skin and act giving excellent results.
You can use it on both the face and body and it is specially designed for the treatment of marks, scars, stretch marks and other imperfections that the skin can encounter. It also acts against dark spots unifying the skin´s tone. In the most devitalized and dehydrated areas, it leaves skin smooth, soft and nourished, helping to restore firmness and boosting cell regeneration.
Apply twice a day, massaging lightly making circular movements until completely absorbed. It can also be used as bath oil or applying a few drops to your usual moisturizer.

Use for: Uneven tone, Anti-aging, After sun, Soothing, Varicella scar, Burn scars, Appendectomy scar, Pregnancy stretch marks, Cesarean scars, Dark Spots, Weight Stretch Marks, Dry cuticles, Dry skin.

ASSETS

| | |
| --- | --- |
| Vitamin A | Restores flexibility, moisturizes dry, scaly skin. Accelerates cell renewal. It potentiates the creation of collagen and restores firmness. Fight against wrinkles and improves the skin´s texture. Treat dark spots and pigmentation problems. |
| Vitamin E | Antioxidant and free radical scavengers. Reduces the damage to skin caused by the sun´s radiation. It is a natural filter against UVB rays. Softens and moisturizes the skin surface boosting water retention. |

ESSENTIAL OILS

| | |
| --- | --- |
| Rosemary Essential Oil | Anti-aging, soothing, anti-inflammatory, healing and regeneratorative. Improves elasticity and protect cells from external aggressions. |
| Calendula Extract | Anti-inflammatory, healing and soothing. Treatment used for eczema, rashes, ulcers, burns, cracked skin, insect bites and other skin damage. |
| Romana Chamomile Oil | Anti-inflammatory, antiseptic, soothing. |
| Lavender Essential Oil | AAnti-inflammatory, sedative, antiseptic. Treatments used for wounds, cuts and burns. Recommended for the treatment of acne, eczema, insect bites, bruises, psoriasis. |
| Bisabolol | Soothing, anti-inflammatory and decongestant. It has soothing and decongestive assets for weathered skin. |
| Rose Hip Oil | Regenerating, anti-aging, moisturizing. Reduces expression lines, lightens dark spots, prevents and reduces stretch marks. Treatment for burn scars, acne and eczema. Improves atopic dermatitis. |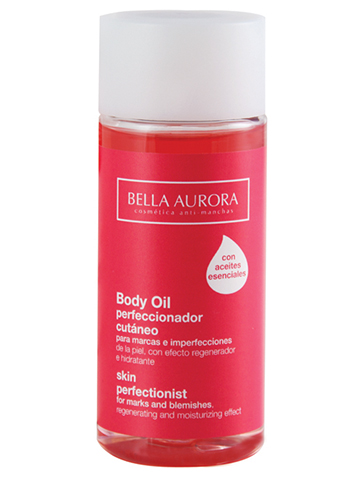 Any question?
If you have any questions about how to apply the product, composition, allergies or anything else, and Ask an expert