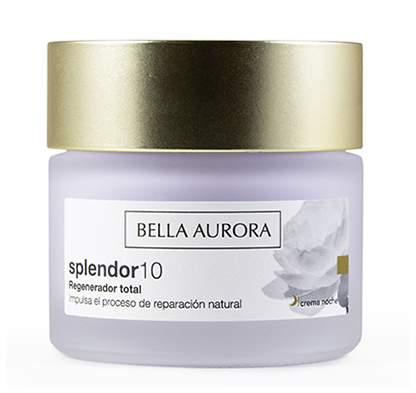 splendor 10 total night regeneration
stimulates the natural regeneration process
Splendor10 night is formulated to act all night long, when the natural skin repair processes take place.
It acts to reduce the visible effects of ageing through epigenetics.
With liposome-loaded genistein, a collagen booster that stimulates collagen production, it redensifies skin from within and softens wrinkles and expression lines.
With the regenerating properties of glycolic acid. Consistent use restores the cell renewal process every day.
With Camellia oleifera oil, the geisha's traditional secret of beauty and youth. Moisturises, nourishes, and prevents ageing.
Innovative gel-in-oil texture, formed by a fusion of Camellia oil micro-drops and a moisturising gel, infuses skin with the freshness of a gel and the nourishment of oil.
Paraben free
Who is it suitable for?
Daily care of mature skin or over the age of 50 years, fighting the ten signs of ageing. Gel-in-oil texture that melts in contact with the skin, for a pleasant, soothing feeling.
Instructions
At night, cleanse thoroughly and apply to the face, neck and décolletage, massaging in gently until completely absorbed.

RoyalEpigen 5™ Royal Jelly Peptide
Peptide mimics royal jelly to optimise its epigenetic effect on the skin.
Activates cell regeneration and skin shine.
Soy Isoflavone
Stimulates collagen production and prevents degradation. Lifting, anti-wrinkle and redensifying effect.
Glycolic acid
Keratolytic effect, regenerating and redensifying. Increases skin thickness by stimulating collagen synthesis, elastin and hyaluronic acid in the fibroblasts.
Camellia Oil
24-hour moisture Restores the skin from within and eliminates skin blemishes.
Any question?
If you have any questions about how to apply the product, composition, allergies or anything else, and Ask an expert