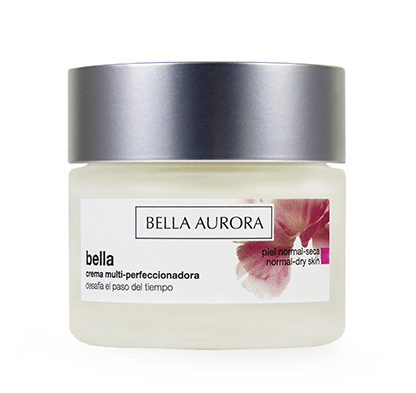 bella multi-perfection day cream
dry skin
Daily anti-ageing and anti-dark spots care. Bella is formulated with a combination of cutting edge active ingredients and natural extracts to provide your skin with the energy it needs to tackle the day with radiance and luminance that last hour after hour:
· Unifies skin tone eliminating dark spots and imperfections and reducing
comedones and the size of pores.
· Brightens dull skin. Your skin instantly recovers its natural light.
· Revitalises by reducing facial signs of fatigue.
· Combats and protects skin from environmental pollution.
· Reduces wrinkles and expression lines. Improves skin elasticity.
· Results in healthier and more refreshing and toned skin.
· Deeply and instantly hydrates.
Pleasant texture with a velvety finish.
Sun filters SPF20 / UVA / IR.
Allergen-free fragrances
Who is it recommended for?
Women over the age of 40 years who are concerned about keeping their skin looking young and bright and slowing down the skin ageing process.
Application
Apply in the morning to your entire face. Lightly massage until complete absorption.

DEPIGMENTING SUBSTANCES + EXTRA CARE

Extract of Mount Jiri Peony Flower (South Korea)
Depigmenting, tyrosinase inhibitor.
Anti-oxidant and anti-ageing.
Pomegranate stem cells
Depigmenting, inhibits melanin formation.
Antioxidant and brightening.
Combination of matrikines
Antiageing, they improve skin elasticity and tone
Betaine
Moisturiser. Improves the skin barrier, reduces irritation and acts in synergy with depigmenting ingredients.
Vitamin E
Anti-oxidant.
Natural mica pigment
Pearlising optical effect on the skin. 

Minimises dark spots.

A mixture of ginseng, wheat, barley, apple and peach
Combination of natural extracts that protect from external aggression from toxic contaminating environmental substances (heavy metals, gases, cigarette smoke) and UV radiation.

Results:
With Bella, your skin will be:
100% more hydrated
85% brighter
100% more comfortable
* Results from a 6-week test carried out by a private laboratory on 20 women aged between 35 and 55 with facial dark spots.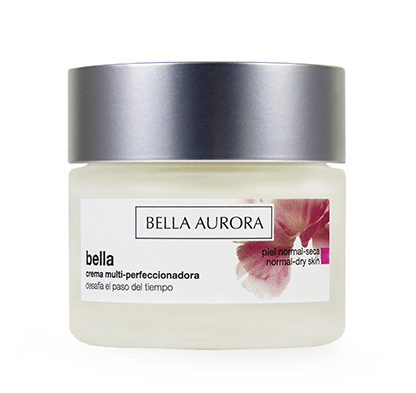 Complete the treatment with
Our videos
Bella Día y Bella Noche Isasaweis
Any question?
If you have any questions about how to apply the product, composition, allergies or anything else, and Ask an expert