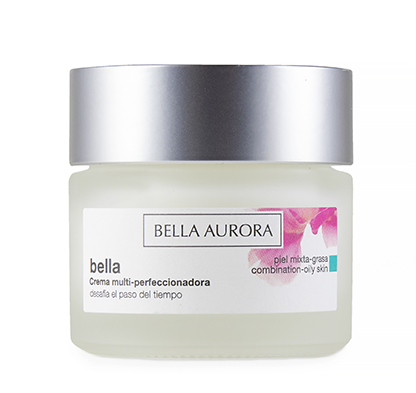 bella multi-perfection day cream
combination / oily skin
Daily care anti-ageing and anti-dark-spot care with a combination of active high technology and natural extracts with energy for round-the-clock radiant skin.
bella day multi-perfecting cream:
Fades dark spots and blemishes with a combination of pomegranate stem cells and peony extract from Mount Jiri (Korea).
For an even skin tone.
Brightens dull skin. For instantly brighter skin.
Revitalises, reducing the feeling of tiredness.
Anti-pollution. Protects the skin from environmental contaminants.
Softens wrinkles and expression lines. Improves skin elasticity.
For fresher, toned, healthier skin.
Intense, long-lasting hydration.
Fresh, light texture that leaves skin feeling pleasant and soothed.
Oil free. SPF20 sunscreen. Protection from UVA + UVB +IR + HEV
Who is it suitable for?
Women over the age of 40 years wanting to keep their skin looking youthful and bright and to delay skin ageing.

Application
Apply to the face every morning, gently massaging in until fully absorbed.

Remember to supplement your treatment with bella brightening concentrate or bella Peony Elixir and bella night.

Extract of Mount Jiri peony flower (South Korea)
Depigmenting, tyrosinase inhibitor.
Anti-oxidant and anti-ageing.
Pomegranate stem cells
Depigmenting, inhibits melanin formation.
Antioxidant and brightening.
Combination of matrikines
Anti-ageing peptides that firm and tone the skin.
Betaine
A sugar beet product with moisturising properties that traps water and stops it from evaporating.
Silicon sphere of natural origin
With a dry, velvety texture that absorbs excess sebum.
Thermus thermophilus ferment
IR reduction. Reduces inflammation, boosts moisture and prevents the formation of wrinkles.
Pronalen Bio-Protect™ (A mixture of ginseng, wheat, barley, apple and peach)
Combination of natural extracts that protect the skin from damage caused by environmental toxins (heavy metals, gases, cigarette smoke) and UV radiation.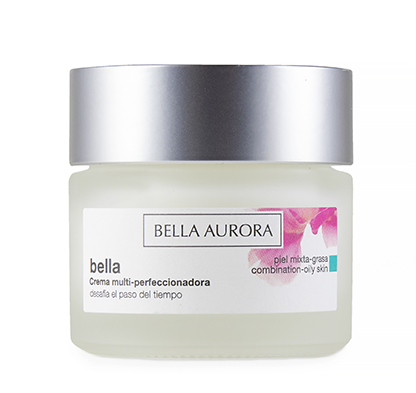 Complete the treatment with
Any question?
If you have any questions about how to apply the product, composition, allergies or anything else, and Ask an expert