We know that skin keeps and reflects its own history, each sign of the face defines it and makes it unique. But when we talk about skin spots, we only think of one thing: saying goodbye to them!
Dark spots appear on the skin when melanin production increases and its distribution is not carried out uniformly, thereby accumulating in certain areas. The appearance of these spots depends on several factors: they may appear due to overexposure to the sun, age, hormonal factors, the use of photosensitizing products or post-inflammatory lesions. Not all skin blemishes are the same, which is why the latest innovation from the Bella Aurora labs offers different solutions to each type of dark spot, differentiating them according to their origin. Now you can choose the treatment that best suits the history of your skin and your type of dark spot to restore a radiant complexion, that is even and unblemished.
To find out how to choose the intensive anti-dark-spot treatment that is most appropriate for you, we help you identify your dark spots:
Sun or age spots
Spots caused by overexposure to the sun or by age are small hyper-pigmentations that appear isolated or grouped in areas exposed to the sun such as the face, décolleté and/or hands. These types of spots are brownish, brown or black, flat, rounded and oval, with regular edges. During the summer they may become more visible due to increased hours of sun exposure.
To treat these types of dark spots, we recommend the bio10 forte L-tigo depigmenting treatment.
Dark spots of a hormonal origin
The use of medications, stress or hormonal changes can cause the appearance of spots, as the skin becomes more sensitive to the sun in specific areas. These types of spots can be recognized as they are diffuse, elongated and irregular and found on both sides of the face symmetrically, on the cheeks, in the central part of the forehead or on the upper lip.
If you can identify with this, the bio10 forte M-lasma depigmentation treatment is the one for you.
Dark spots of a post-inflammatory origin
Dark spots that develop after an inflammation or alteration in the skin, such as a wound, sting or acne, occur because the immune system in the area where the inflammation has occurred is weakened. These types of spots can form anywhere on the body, and are recognized by being irregular and located in the previously inflamed area. They can also be caused by the application of chemical substances on the skin, such as perfumes, colognes or deodorants, as the molecule, on receiving solar radiation, causes an allergic reaction on the skin.
If your dark spot is of a post-inflammatory origin, the bio10 forte Mark-s depigmentation treatment is ideal for you.
Dark spots of a non-specific origin
Have you been unable to identify your dark spot or do you have several different types of spot?  Don't worry about it! You can incorporate anti-stain active ingredients into your regular beauty routine with the depigmenting treatment in ampoules, applying half an ampoule, morning and night, to your clean face, before your regular moisturizing cream.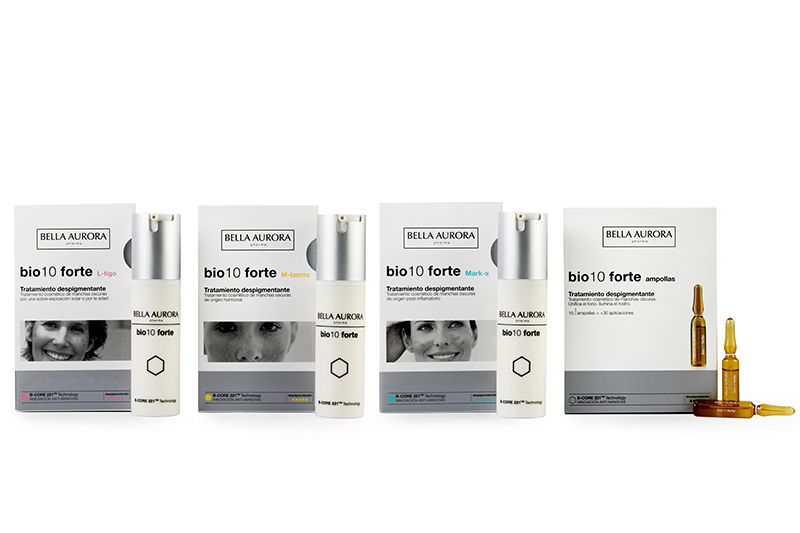 How to apply it?
Apply your bio10 forte treatment to your clean face, neck and décolleté, massaging gently until completely absorbed. With regular use, you will see the results in a very short time! After four weeks, bio10 forte attenuates existing blemishes and unifies and illuminates the face.
In addition, remember that the sun is one of the main causes of the appearance of dark spots. Therefore, it is essential to apply a sunscreen all year round to provide maximum protection from the sun's rays.
With bio10 forte, whatever the origin of your dark spot, there is a solution!